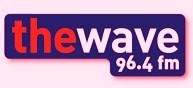 96.4 FM THE WAVE - SOUTH WEST WALES' NO.1 HIT MUSIC STATION.
THE WAVE IS THE MOST LISTENED TO HIT MUSIC STATION IN SOUTH WALES, WITH CONTEMPORARY POP HITS, NEWS, INFO, SHOWBIZ AND ENTERTAINMENT.
AFTER BEING CUT OFF FROM SWANSEA SOUND AND GIVEN A SEPERATE LICENSE, THE WAVE OFFICIALLY STARTED IN 1995.

ORIGINALLY NAMED SOUND WAVE, THE STATION WAS SWANSEA'S 2ND LOCAL STATION.
THE STATION, OVER THE YEARS, HAS WELCOMED BIG NAMES IN SOUTH WALES, INCLUDING SIMON COWELL, GIRLS ALOUD, RICHAEL STEVENS AND MORE.
THE WAVE HAS ALWAYS BEEN AND ALWAYS WILL BE SWANSEA'S BEST HIT MUSIC STATION.
IN 2007, THE WAVE SWITCHED ITS FORMAT TO HOT ADULT CONTEMPORARY. THIS WAS NOT AUTHORISED AND TWO YEARS LATER, THE LICENSED FORMAT WAS SET BACK - TOP 40 CHART MUSIC.

2009 SAW THE WAVE INCREASE THE AMOUNT OF CONTEMPORARY HITS, ACHIEVEING THE CONTEMPORARY HIT RADIO STATUS AGAIN. THIS STATUS HAS BEEN OFFICIALLY WRITTEN BY OFCOM.