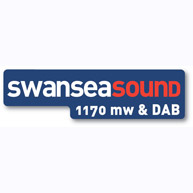 1170 MW & DAB DIGITAL RADIO - SWANSEA SOUND
SWANSEA SOUND IS SOUTH WEST WALES' NO.1 MW STATION. IT IS FOR THE HEART OF SOUTH WEST WALES, BROADCASTING CLASSIC POP MUSIC IN THE 21ST CENTURY.
SWANSEA SOUND IS WALES' 1ST LOCAL RADIO STATION AND THE 1ST BILINGUAL STATION IN THE COUNTRY TOO. THE STATION WAS THE 9TH LOCAL STATION TO BECOME ACTIVE IN THE UK.
1974 WAS THE DATE IN WHICH THE STATION BECAME ON AIR. IT BROADCAST ON 1170 MW AND 95.1 FM. BUT IN THE EARLY 8OS, THE FREQUENCY SWITCHED TO 96.4 FM, BUT 1170 MW STILL BROADCAST THE STATION OUTPUT.
NOW, THE STATION IS HEARD ON 1170 MW, AS STATION STATION THE WAVE HAS TAKEN OVER THE 96.4 FREQUENCY. SWANSEA SOUND IS ALSO BROADCAST ON DAB AND ONLINE.